My Zombie Calendar is finally for sale on Zazzle!!!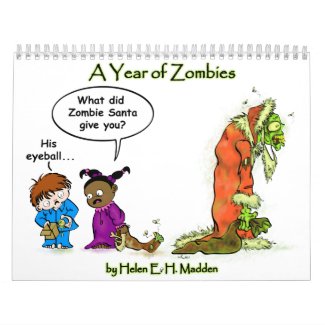 Zombie Calendar!
by
Cynical_Woman
See other
Zombie Calendars
Well, file this under "better late than never!" Last year I started working on a zombie calendar, drawing a zombie a month using Adobe® Ideas on my iPad. I had planned to finish up the calendar and put it up for sale on Zazzle in November, but then I tore my ACL and all the plans I had for the rest of the year sort of fell apart. Honestly, I couldn't sit upright with a laptop until just last week, due to the swelling and soreness in my right knee.
But now it's done! Twelve zombies to commemorate the twelve months of the year! I will be ordering a couple of copies, hopefully to get them in time to take to Marscon on the 18th through the 20th in Williamsburg, VA. I will also have a collection of greeting cards, including Zombie Santa and a zombie Valentine, and some original crocheted amigurumi! If you've been following me on Twitter (@Cynical_Woman), you've seen some of the amigurumis in progress. I'll have Skully Girl, Funky Chicken, Pumpkin Head, Zombie Sock Monkey, and Mr. Squishy, either in the art show or for sale at my table. So be sure to stop by and take a look!
(By the way, if you're on Ravelry, I'm listed as CynicalWoman!)